A
chancellor 
(also known as
rook-knight compound) 
is a fairy chess piece that can move like a
rook
or
knight
. Although it cannot jump over other pieces when moving as a rook, but may do so when moving as a knight.
The chancellor is of the earliest described unorthodox pieces and have gone throughout the last century and a half with a number of various names.
The piece do make appearance in many fairy chess variants, for instance the more popular Capablanca Chess and Gothic Chess respectively.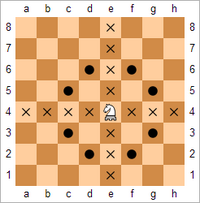 The chancellor is closely equal in strength when compared to the Queen, despite the queen usually getting the upper hand in the endgame (with few pieces remaming). However, the chancellor can achieve a draw easier due to the greater amount of check possibilities. Usually, trading a queen for chancellor is considered bad trade, but the difference might be hard to exploit with several pieces remaining on the board.
Depending on the board size (in this case 10x8), the queen is assessed to be about 0.5 points stronger than the Chancellor, essentially meaning 1/16 (theoretically) as powerful in most practical circumstances. Queen: 8.8 Chancellor: 8.3
Ad blocker interference detected!
Wikia is a free-to-use site that makes money from advertising. We have a modified experience for viewers using ad blockers

Wikia is not accessible if you've made further modifications. Remove the custom ad blocker rule(s) and the page will load as expected.