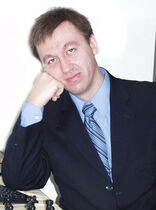 Gata Kamsky is a
grandmaster
from the U.S.A. He is also the highest rated person in America (2799 December 2008), and is a current contender for
World Champion
.
Kamsky was born in Novokuznetsk, Russia (June 2, 1974).
At the age of twelve Kamsky defeated Grandmaster Mark Taiminov in a tournament game.
At age 16 (1990) Kamsky played in his first Interzonal Tournament, his first step towards the World Chess Championship. That same year Gata was awarded with the title of Grandmaster by the FIDE.
Gata is currently playing an eight game match agains Veselin Topalov to decide who will go on to challenge the World Champion, Vishwanathan Anand. The current score is 1.5 to 1.5.
Ad blocker interference detected!
Wikia is a free-to-use site that makes money from advertising. We have a modified experience for viewers using ad blockers

Wikia is not accessible if you've made further modifications. Remove the custom ad blocker rule(s) and the page will load as expected.