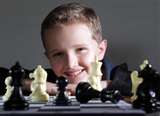 Kayden William Troff
(b. 1998) is a Utahn
chess prodigy
.
He first demonstrated chess ability at the age of three, by which time he had learned to play by watching his father (Daniel Troff) teach and play against his brothers, Zachary and Jeremy.[1][2]
When Troff turned six, his father decided to have him tutored by grandmaster Igor Ivanov. Ivanov was impressed with how well Kayden played.
He won a Utah State Elementary Championship at the age of seven.[3] In December 2007, at age eight, Troff was named to the United States Chess Federation's 2008 All America Chess Team,[4] an honor described as "one of the highest national honors attainable by a young chess player".[5] On December 14, 2008, he won second place at the fifth-grade level at the National K-12 Championships.[6][7]
On January 24, 2009, Troff won the Utah Speed Chess Championship at age ten, becoming the youngest player ever to win that event.[8] On March 14, 2009, Troff won the Utah G/60 Championship, also becoming the youngest player ever to win that event.[9][10]At this event, his regular rating peaked at 1934. His speed chess rating peaked at 2125 at this tournament. His ambition is to become a grandmaster.
Troff scored 11th/12th in the World Chess Live junior grandprix (2008) and is currently one of the top scorers in the 2009 JGP.
Kayden lives in South Jordan, Utah with his parents, Kim and Daniel, and brothers Jeremy and Zachary, both of whom also play chess.[11]
External links
Edit
Cite error: <ref> tags exist, but no <references/> tag was found
Ad blocker interference detected!
Wikia is a free-to-use site that makes money from advertising. We have a modified experience for viewers using ad blockers

Wikia is not accessible if you've made further modifications. Remove the custom ad blocker rule(s) and the page will load as expected.