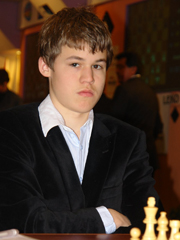 Magnus Carlsen is a Norwegian grandmaster (born 1990) and the current world chess champion. He has a
rating
of 2844, ranking him as first in the world. He is now the second highest rated player in chess history after Garry Kasparov's 2851. However, in May 2014, he had the highest rating in the history of chess with a rating of 2882.
Carlsen became a grandmaster at the tender age of thirteen years, four months, and twenty-seven days, the third youngest grandmaster age in history.
Ad blocker interference detected!
Wikia is a free-to-use site that makes money from advertising. We have a modified experience for viewers using ad blockers

Wikia is not accessible if you've made further modifications. Remove the custom ad blocker rule(s) and the page will load as expected.