Emanuel Lasker
was beaten by an almost totally unknown player: 23 year old Hungarian Rudolf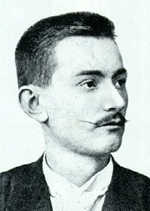 Rezső Charousek. This was the stunning start to one of the shortest, and most brilliant, careers in all chess history. Charousek proceeded to beat every single strong master of his era and to finish first or second in every tournament he played after Nürnberg. Mikhail Chigorin gave him the appropriate nickname "The New Morphy." Like a comet, Charousek flared across the chess firmament, shone with an incandescent brilliance, and was gone.
Ad blocker interference detected!
Wikia is a free-to-use site that makes money from advertising. We have a modified experience for viewers using ad blockers

Wikia is not accessible if you've made further modifications. Remove the custom ad blocker rule(s) and the page will load as expected.