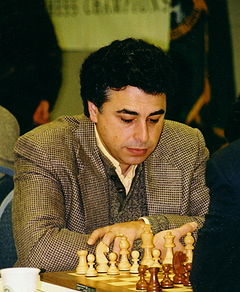 Yasser Seirawan (b. March 24, 1960) is a chess
grandmaster
from Washington state.
Seirawan began playing chess at 12; at 13 he became Washington junior champion. At 19 he won the World Junior Chess Championship. He also won a game against Viktor Korchnoi, who then invited Seirawan to Switzerland, where Korchnoi was training for his world title match against Anatoly Karpov.
For many years he was the chief editor of the Inside Chess magazine, which however later became an Internet-only magazine and later just a column at the ChessCafe.com website.
In 1999, Seirawan played a ten-game match against Michael Adams in Bermuda. The match was drawn +2–2=6.
In 2001, Seirawan released a plan to reunite the chess world, which at that time had two world champions: Ruslan Ponomariov had gained the title under the auspices of FIDE, while Vladimir Kramnik had beaten Garry Kasparov to take the Einstein title. It called for one match between Ponomariov and Kasparov (the world number one), and another between Kramnik and the winner of the 2002 Einstein tournament in Dortmund (who turned out to be Péter Lékó). The winners of these matches would then play each other to become undisputed World Champion. This plan was signed by all parties on May 6, 2002, in the so-called "Prague Agreement". The Kramnik-Leko match took place (the match was drawn, with Kramnik retaining his title); the Kasparov-Ponomariov match was canceled in 2003, and this particular plan became moot after the September–October 2006 FIDE World Chess Championship 2006 between Kramnik and Veselin Topalov reunited the world championship title .
Following a series of events Seirawan participated in China during September 2003, there were reports that he would be retiring as a professional player. In the July 2007 FIDE list, Seirawan had an Elo rating of 2634, placing him in the top 100 chess players in the world, and America's number four (behind Hikaru Nakamura, Gata Kamsky and Alexander Onischuk). He played six games in the July 2007 FIDE update.
In 2007 Yasser Seirawan unveiled his enhanced chess game called Seirawan chess which he is currently promoting world-wide. The first ever event was a 12 board simultaneous exhibition held March 31, 2007 in Vancouver, Canada.
This article is a stub. Please help us by improving or adding on to it.
Ad blocker interference detected!
Wikia is a free-to-use site that makes money from advertising. We have a modified experience for viewers using ad blockers

Wikia is not accessible if you've made further modifications. Remove the custom ad blocker rule(s) and the page will load as expected.